Choose a soft touch coating for your sports bottle! This gives your bottle a more luxurious look and also provides extra grip due to the matte coating.
Durable sports bottles with a soft touch coating
Softtouch is a special coating which is applied over a sports bottle, giving it a matte and stylish look and providing extra grip. By default, we offer these in black and transparent colors. For more options, please contact us to discuss the possibilities.
Soft touch is possible with the Gripper and the Teamsports bottle. Technically, it is not possible to combine soft touch with a line of sight. Do you want to see the volume of the sports bottle? Then choose the soft touch clear, this ottle is semi-transparent so you can clearly see the volume of the bottle.
The soft touch layer does not affect the sustainability of the sports bottle and it will remain 100% recyclable. Eurobottle has years of experience in printing sports bottles, so you can be confident that your print will be perfectly clear and long-lasting.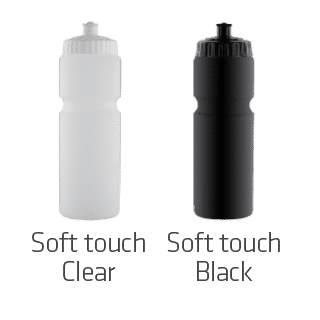 Discover all the benefits of a soft touch layer on your bottle
Give your printed sports bottle an even more luxurious look with a soft touch coating. You can see the differences between soft touch clear and soft touch black in the image below. Interested? Get in touch with us!